According to the Presidency website, President Ramaphosa has placed the Minister of Communications and Digital Technologies, Stella Ndabeni-Abrahams on special leave for two months.
The President summoned the Minister yesterday, Tuesday 07 April 2020. The President expressed his disapproval of the Minister's actions, which undermine the requirement that all citizens stay at home and save South Africa from the spread of the coronavirus.

The President accepted the Minister's apology for the violation but was unmoved by mitigating factors she tendered.

President Ramaphosa has placed the Minister on special leave for two months, during which Minister in The Presidency Jackson Mthembu will act in Minister Ndabeni-Abrahams' position.

The President has reprimanded the Minister and directed her to deliver a public apology to the nation.

PresidencyZA
This comes after Minister Stella Ndabeni-Abrahams violated the lockdown regulations. A photo was shared on social media of the Minister having lunch at the home of former deputy minister of higher education, Mduduzi Manana during the 21-day lockdown.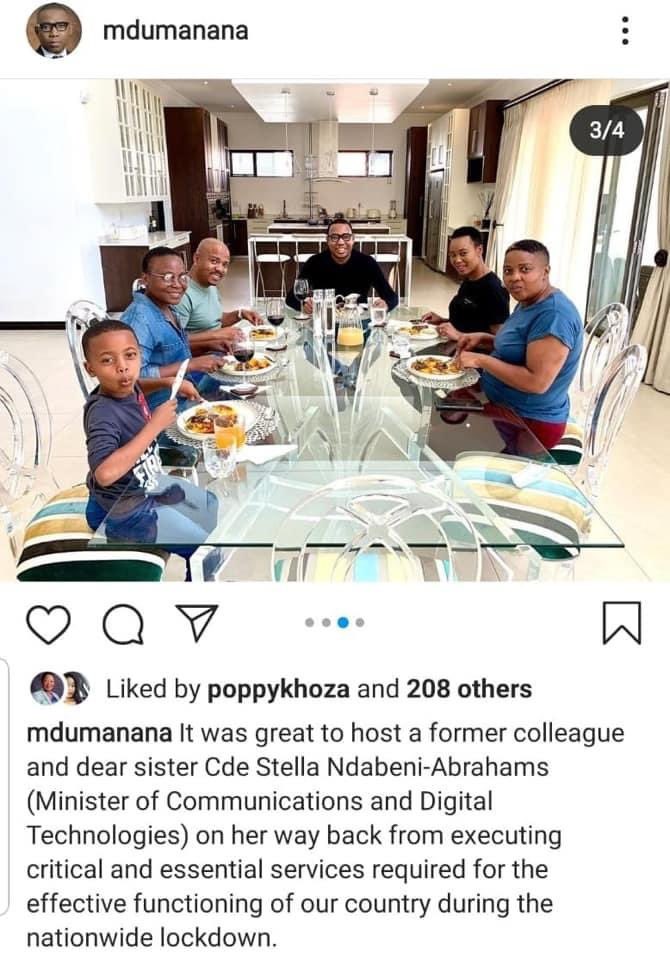 The Minister apologized for the incident on Wednesday.
WATCH | 'I hope the president and South Africans will find it in your hearts to forgive me' – Minister Stella Ndabeni-Abrahams apologises for breaking lockdown regulations #stellandabeni pic.twitter.com/gjVrT7KvHC

— News24 (@News24) April 8, 2020
South Africans on social media feel like the President is not doing enough, as regular citizens were arrested during this time. South Africans at large are calling for the Minister to be arrested.
What are they saying?
Many criminals that have violated the lockdown regulations like you Stella have apologized but are in jail.

— Trade Nas100 (@Bongani20994708) April 8, 2020
Hit a like if you agree she must be arrested #Day13ofLockdown #Covid_19SA #SingleLadiesChallenge #SouthAfricaLockdown #21daysLockdownSouthAfrica #cyrilramaphosa #stellandabeni pic.twitter.com/IccRKr6bep

— Diego_Chuene (@Diegochuene) April 8, 2020
Does this also apply to people like Minister of Communications and Digital Technologies Ms Stella Ndabeni-Abrahams or its just for some of us. #stellandabeni #MduManana #Stella pic.twitter.com/ATUeq5wRL4

— Man's NOT Barry Roux  (@AdvoBarryRoux) April 8, 2020
#stellandabeni #ArrestStellanow #ArrestStella
Stella must be arrested
Stella must be arrested
Stella must be arrested
Stella must be arrested pic.twitter.com/0MyT41yh5i

— Akhona Mxhosana (@aico_xhosa) April 8, 2020