A leaded document from the department lists certain requirements that businesses must meet before they will be eligible for financial assistance from the government's COVID-19 emergency fund. One of these is that a business must be black-owned 51% to qualify.
The department said it was only a draft document that should not have been published.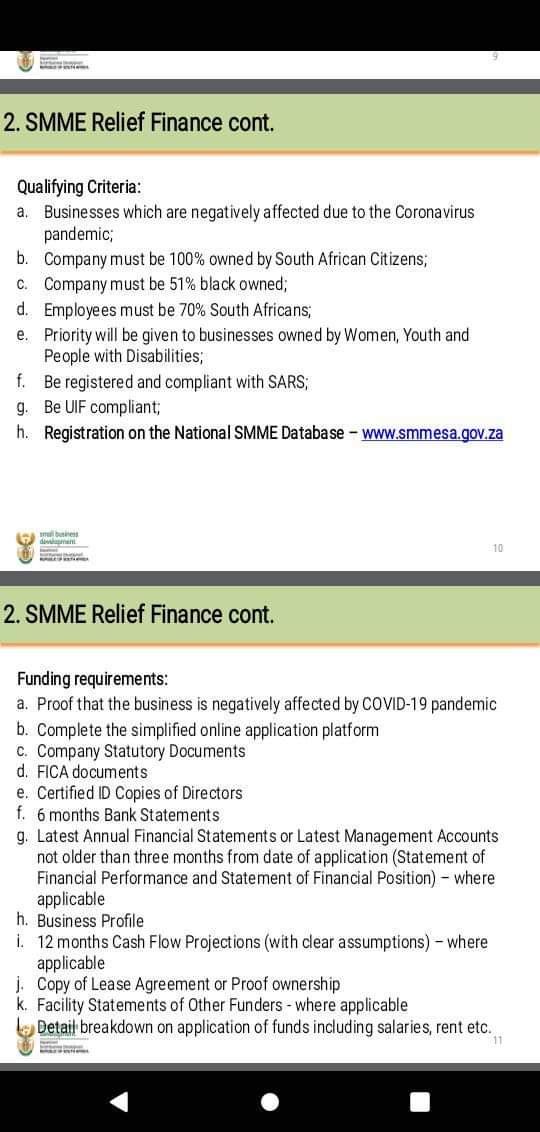 The Department of Small Business Development highlighted that it was a draft document from a week ago. "It was not meant to be shared with the public," the department said on Twitter
Hi Rozelle, please not that this was a draft document over a week ago in the Department and was still under revision. It was not meant to be shared with the public.

Regards,

— Dept. of Small Business Development (@DSBD_SA) March 24, 2020
The Citizen falsely claimed that the document is "fake news" as the document was in a draft stage at the time of being leaked on Twitter.
It is yet unknown if the department walked back the requirements after receiving a donation from the Rupert and Oppenheimer families of R1 billion each.
Singer Dewald Wasserfall reached out to his fans on Facebook expressing his disappointment in the government. In a statement addressing his fans Wasserfall says:
"This morning I hoped to see if my company could apply for the aid fund that will help "All small businesses" during Covid-19. Only to find out that only businesses whose ownership is at least 51% black may apply. And now it feels as if my own country does not consider me a South African. Does the government think that only black people's businesses will suffer during the lockdown? Can anyone please help me understand and justify this?"
Please note the post was changed from Afrikaans.
In a statement, Khumbudzo Ntshavheni, Minister of Small Business Development said that we also want to clear the "news" that we will support all small businesses regardless of the demographics of the owners. It is not true that we will only help 51% black-owned businesses.
Download the NewsliteSA Android application for the latest updates in South Africa: CLICK HERE