In a statement by DA member, Dean Macpherson, the DA welcomes the withdrawal of the leaked document from the Department of Small Business Development.
"The Democratic Alliance (DA) welcomes the rejection by Government of the absurd proposal by the Department of Small Business Development to link SMME-funding during the national lockdown to race-baced ownership."
"The issue has caused mass panic in the business community across South Africa due to a leaked document from the department."
In the statement, the DA says that they also believe that the website to the funding application must be urgently taken down as it contains questions around race and sex wich are not relevant to the funding application.
See full statement below: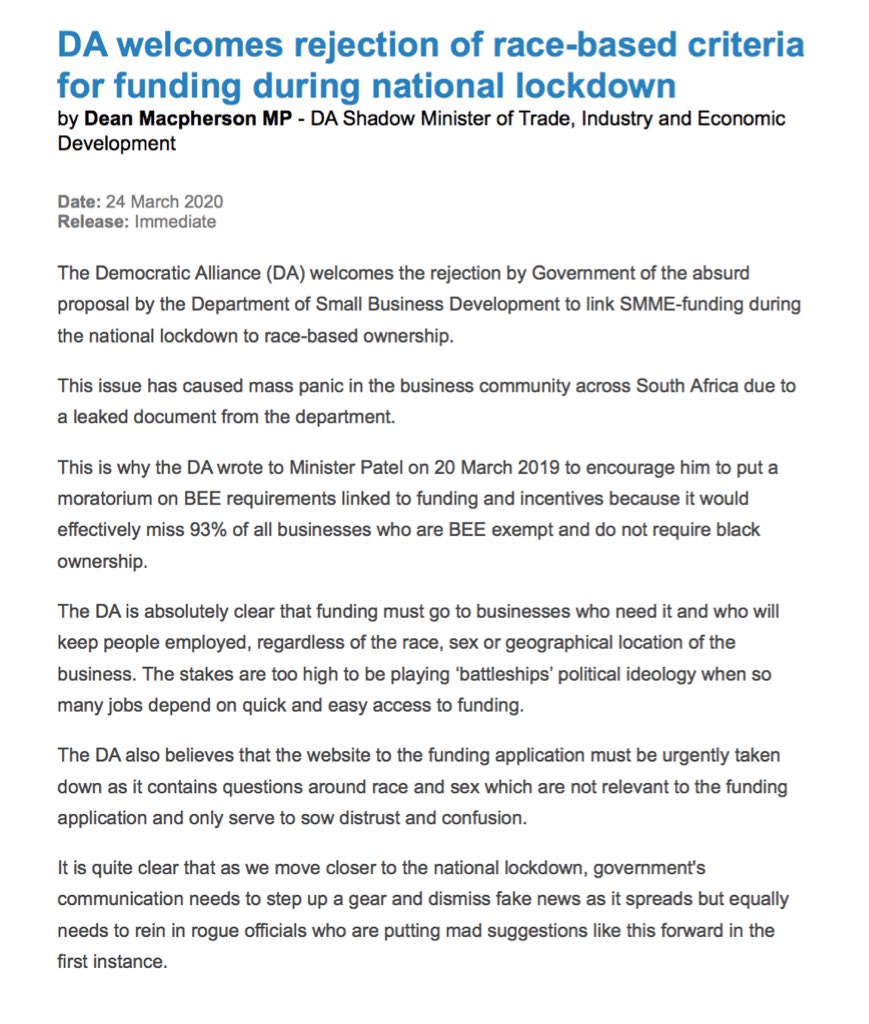 The leak documents are as follow: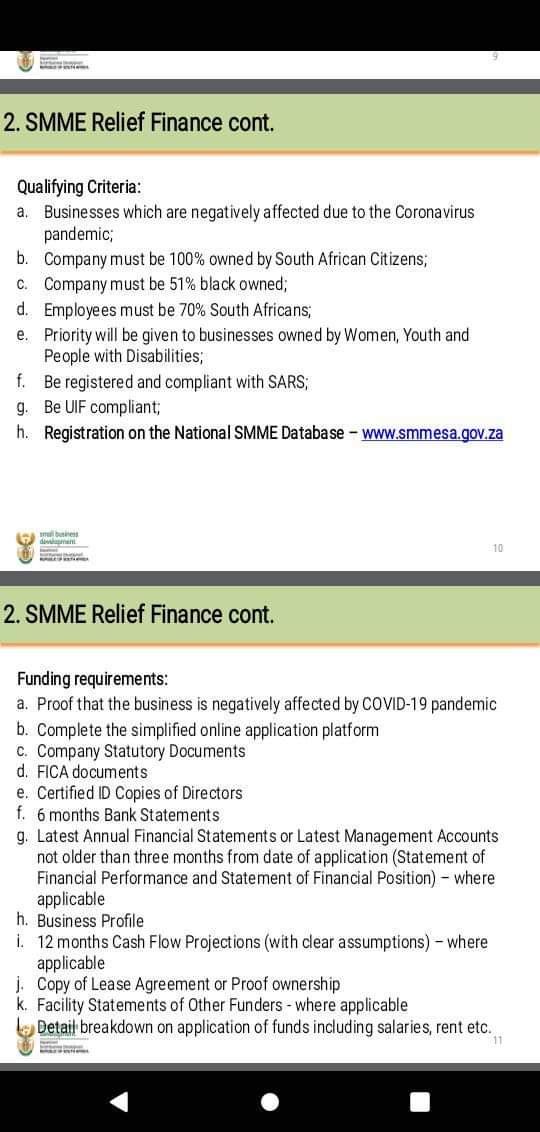 The Department responded to a question and claimed that it was a draft bill that should not have been seen by the public.
Meta data of the publication allegedly shows that it was made by the Department of Small Business Development.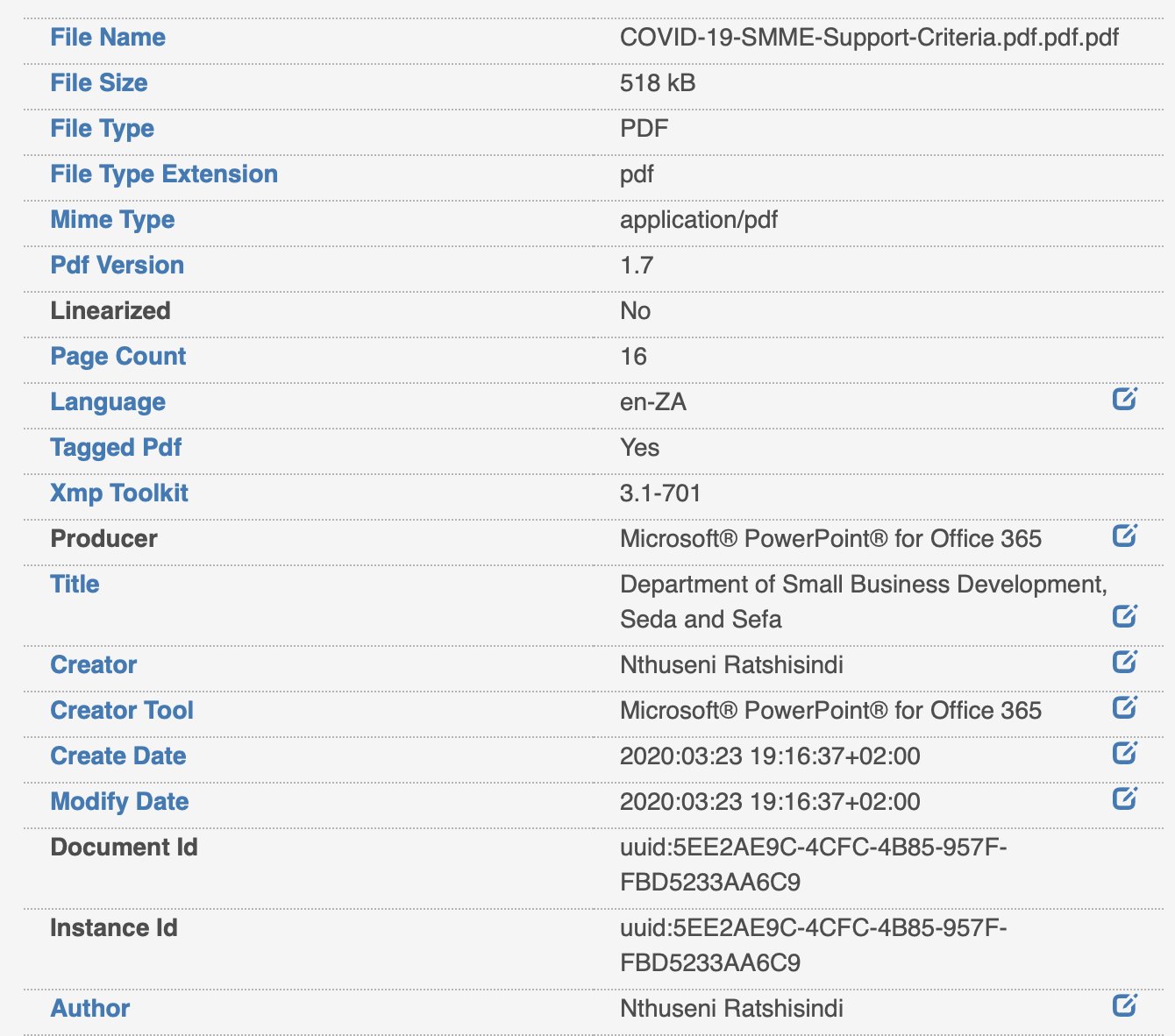 For those saying that SMME presentation is fake news…

Take a look at the metadata.#SMME #BEERegulations #CoronavirusSA #LockdownSA pic.twitter.com/OFn35VLT2E

— Alt-Anton (@antonnies) March 24, 2020
Sakeliga will therefore launch a platform at www.sakeliga.co.za tonight for all businesses to notify Sakeliga of their applications and outcomes.
"We welcome the Department of Small Business Development's public disavowal of the leaked concept BEE-criteria for SMME relief. The Covid-19 crisis is not the time for BEE. We await the final criteria, which we insist must be BEE-free," says Piet le Roux, CEO of Sakeliga.
"Thankfully, the public outcry and response by business leaders mean that the initial draft SMME fund regulations will probably be withheld or amended. Still, we shall keep a close watch on the department's activities to make sure that BEE does not slip in through some backdoor. It is terribly disappointing that some officials saw it fit to continue bad ideological habits at a most inappropriate time, concept or not," Le Roux continues.